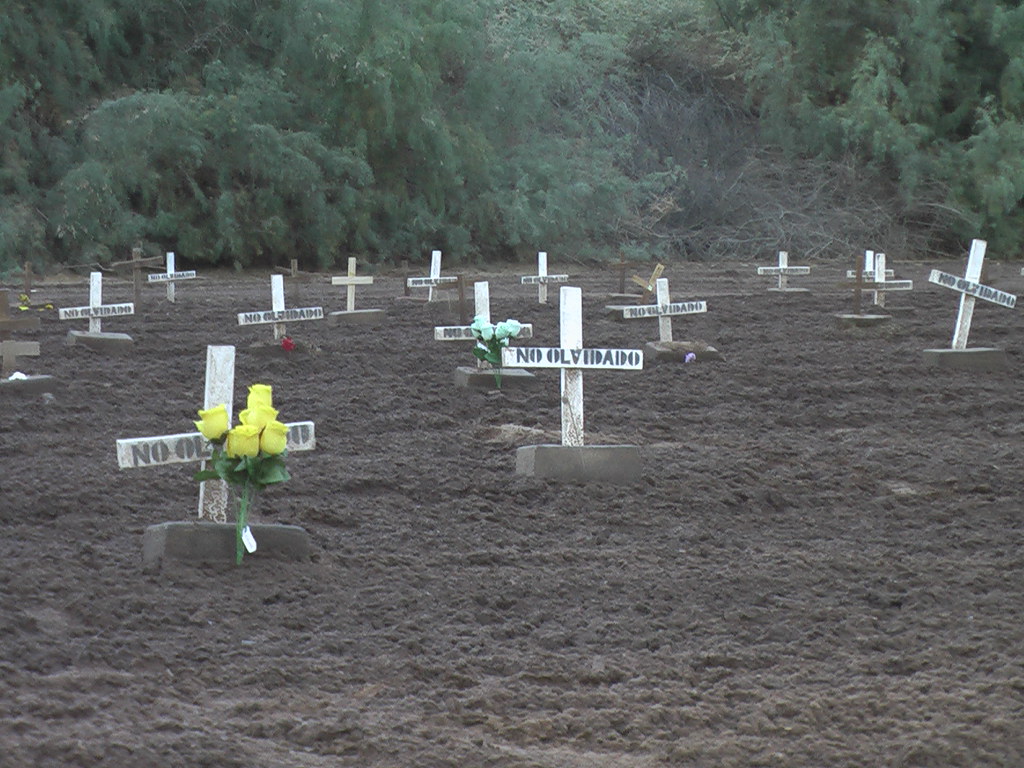 "No Olvidado" translates as "Unforgotten," a reference to those who died, unnamed, in the desert. Though the news moves on, we do not intend to forget them–nor the children who died in the bombing of an innocent man outside his home in Afghanistan, nor those civilians who were killed by one of the 112,000 bombs dropped on ISIS targets.
DOMESTIC NEWS
1. Death in the desert: Unforgotten
We've become familiar with scenes of people in line, in detention, in camps at the border. But outside our view are those who die trying to cross–either while they are being chased by the Border Patrol or while they are walking across the desert without water. High speed chases led to 22 reported deaths of immigrants in 2021, reports the New York Times, a practice criticized by the ACLU. The organization provides a fact sheet on this subject, in which they point out that the information is often deleted or tampered with in official reports. Customs and Border Protection also reported 700 "use of force incidents"–but did not report how many resulted in death. In one instance, a woman was shot in the back of the head while sitting in a patrol car. Though this woman survived, it is unknown how many people did not. Too often, families are never notified.
Countless immigrants have also died off the record, as No More Deaths / No Más Muertes has documented in the three-part report, Disappeared: How US Border Enforcement Agencies are Fueling a Missing Persons Crisis. The report details how border patrol agents have destroyed thousands of water bottles, chased people into difficult terrain and intervened in 911 calls. This story is not new; CNN produced a documentary, "No Olvidado"–Unforgotten–in 2019 on people who search for and bury the dead in the desert.
Beyond Borders describes the work of searching for people in Brooks County, Texas, and provides the names of organizations who do it. Among others, the local sheriff sponsors a recovery and rescue organization that in 2021 found 119 people in that county alone who had died in the desert. Forensic students from the University of Illinois  are returning to the area to search ranch land for missing people and build water stations: Among the many sorrows relatives endure are when their family members who die attempting to cross the border are buried in unmarked graves and never identified.  A documentary about families looking for their lost loved ones in the desert, "Missing in Brooks County," is premiering January 31 on PBS.
2. Surveillance of journalists' and activists' phones continues
Journalists and human rights activists–along with the wife and fiancee of murdered Washington Post columnist Jamal Khashoggi–had their smart phones hacked by Pegasus Spyware, produced by the Israeli NSO group, the Post reported last summer. NSO leases its software to governments around the world, especially those with alarming human rights records. NSO itself was quoted as saying that its software is only supposed to be "deployed against terrorists and criminals. It says it operates ethically and monitors its clients for human rights abuses"; however, in other contexts it says that its software is set up so that it cannot see what users do with it.
The Post's investigation built on the work of Forbidden Stories, a Paris-based journalism nonprofit, and Amnesty International, which turned their work over to a media consortium, now called The Pegasus Project. As the Post notes, among those targeted were "politicians, human rights workers, journalists, dissidents and family members of opposition figures." The list of phones infected with surveillance software included journalists working overseas for "CNN, the Associated Press, Voice of America, the New York Times, the Wall Street Journal, Bloomberg News, Le Monde in France, the Financial Times in London and Al Jazeera in Qatar."
Last month, after an extensive investigation, Meta announced that some 50,000 Facebook users had also been surveilled using Pegasus–the report is posted online. As the Post explained, "Pegasus and other forms of spyware allow operators to remotely turn smartphones and other computers into surveillance devices capable of listening to calls and tracking user locations, as well as stealing photos, videos, contact lists and other files." It can be downloaded into users' phones without them being aware of it.
This is a long-standing issue; in 2018, Citizen Lab, a research group at the University of Toronto, identified worldwide issues with Pegasus. Last month, Citizen Lab also identified another surveillance company, Cytox, noting that the iPhone 12 of a former Egyptian presidential candidate and opposition leader, Ayman Nour, was doubly infected with both Pegasus and Cytox software–it became apparent when the phone was running hot from the demands of both. RLS
INTERNATIONAL NEWS
3. Civilian casualities–unacknowledged deaths
112,000 bombs were dropped by the US military on ISIS targets between 2014 and 2019, NPR reported recently. The problem, of course, is that though the military has the capacity to do precision targeting, it doesn't–and indeed, it evades the protocols that would preserve civilian lives. As Dave Philipps, a correspondent covering the military for The New York Times, told NPR, a review of civilian casualties in 2018 revealed that whenever a secret unit called Talon Anvil was involved, more civilians died. Very often the incidents–and the number of deaths–went uninvestigated and undocumented.
Civilian deaths continue elsewhere. In September, we described the mistaken attack on a civilian family in Afghanistan. Through the Freedom of Information Act, the New York Times obtained drone footage of the attack. As Times reporter Azmat Khan told NPR in another story last week, the footage makes it absolutely clear what happened:  "He [Zemari Ahmadi] is doing his job. He's picking up his boss' laptop. He's bringing it to where he's supposed to bring it. He's bringing water home to his family. And he's pulling into his home, where his children and nieces and nephews are running to greet him – where the family told me and many other journalists that one of these little boys wants to help drive the car and gets into it with him. And they rush, they crowd him as he's coming back. And then they're all engulfed in flames."
The errors, one general told Khan, consisted of "execution errors, confirmation bias and communication breakdowns." Khan argues that civilian deaths are what led to the distrust of the American government and as a consequence, the resurgence of the Taliban. The deaths, she points out, go unrecorded. "They don't show up in U.N. numbers. They don't have death certificates. I verified many of these deaths through tombstones, going to graveyards that are just littered across the desert." RLS
SCIENCE, HEALTH, TECHNOLOGY & THE ENVIRONMENT
4. New treatments for COVID-19
More treatments have become available for COVID-19, but accessing them is complex. The FDA notes that "Paxlovid, sotrovimab, Veklury (remdesivir), and molnupiravir…are expected to work against the omicron variant, and are authorized or approved to treat patients with mild-to-moderate COVID-19 who are at high risk for progression to severe disease, including hospitalization or death."
Pfizer's oral antiviral Paxlovid is about 90% effective in preventing hospitalization and death–but only 30,000 courses of treatment have arrived in Canada, where only patients at the highest risk will have access to it, according to the Toronto Star. In the US, the government has bought enough Paxlovid for 20 million Americans; a course of treatment costs $530 per person but it is supposed to be free.  (A similar drug, molnupiravir, produced by Merck, works like Tamiflu, targeting the virus's ability to replicate, according to Yale Medicine. It is less effective at keeping people out of the hospital than Paxlovid, as NPR reported in December.) The New York Times ran a first-person essay in which the writer–who covers COVID vaccines and treatments for the paper–(virtually) scours her mother's neighborhood and beyond to fill a Paxlovid prescription, ending up paying an Uber driver to pick it up (so much for free).
Yet another drug, Evusheld, is very helpful for immunocompromised patients who are at risk if they get COVID, but there are so few doses that some hospitals are running lotteries to decide who gets it, according to NPR. This site can be used to locate doses of Evusheld; if you are immunocompromised. Dr. Vivian Cheung, who advocates for patients who need Evusheld, recommends that you get a letter now from your doctor that you are eligible for it and then contact the centers who have it repeatedly until you find it. 
CADTH, is a Canadian organization that collates information on evidence-based drugs for COVID–it is worth reviewing periodically.  Health and Human Services has an interactive map for those looking for monoclonal antibodies, which as we have described before are effective with patients with significant COVID symptoms–but because two of the combinations do not work against the Omicron variant, the FDA has withdrawn approval for those. The FDA recommends Paxlovid, sotrovimab, Veklury (remdesivir), and molnupiravir instead–as well as getting vaccinated and boosted. RLS
RESOURCES
To keep track of countries' pledges–and actions–on climate, you can use the Climate Action Tracker.
The United Nations High Commissioner for Refugees (UNHCR) has a podcast series of 70 years of displacement.
The Americans of Conscience checklist this week has a series of encouraging notes. They also provide a list of other short, effective actions you can take.
Are you trying to decide whether to go to an in-person event? The Canadian Institute on Ageing offers a detailed, well-grounded risk assessment tool.
Moms Rising always has clear, focused actions you can take to make change, this month focusing on juvenile justice.
The American Medical Association (AMA) has a useful FAQ about COVID-19 and the vaccines.
The World Food Programme estimates that 12.4 Syrians are food-insecure, an increase of 4.5 million over the last year. They are receiving donations for their work providing food for the most vulnerable families. The UNHCR is also requesting donations for displaced families in Syria and surrounding countries, particularly Lebanon and Turkey.
The UN Refugee Agency is requesting donations for humanitarian aid in Afghanistan, especially for the hundreds of thousands of displaced people. Not only because Afghan assets have been frozen, but because of massive inflation and the lack of funds to pay the salaries of public employees, the country is at risk of "a total breakdown of the economy and social order," according to the UN Special Envoy on Afghanistan.
Among the organizations that supports kids and their families at the border is RAICES, which provides legal support. The need for their services has never been greater. You can support them here.
Al Otro Lado provides legal and humanitarian services to people in both the US and Tijuana. You can find out more about their work here.
The Minority Humanitarian Foundation supports asylum-seekers who have been released by ICE with no means of transportation or ways to contact sponsors. You can donate frequent-flyer miles to make their efforts possible.
Freedom for All Americans has a very useful legislation tracker on trans issues.