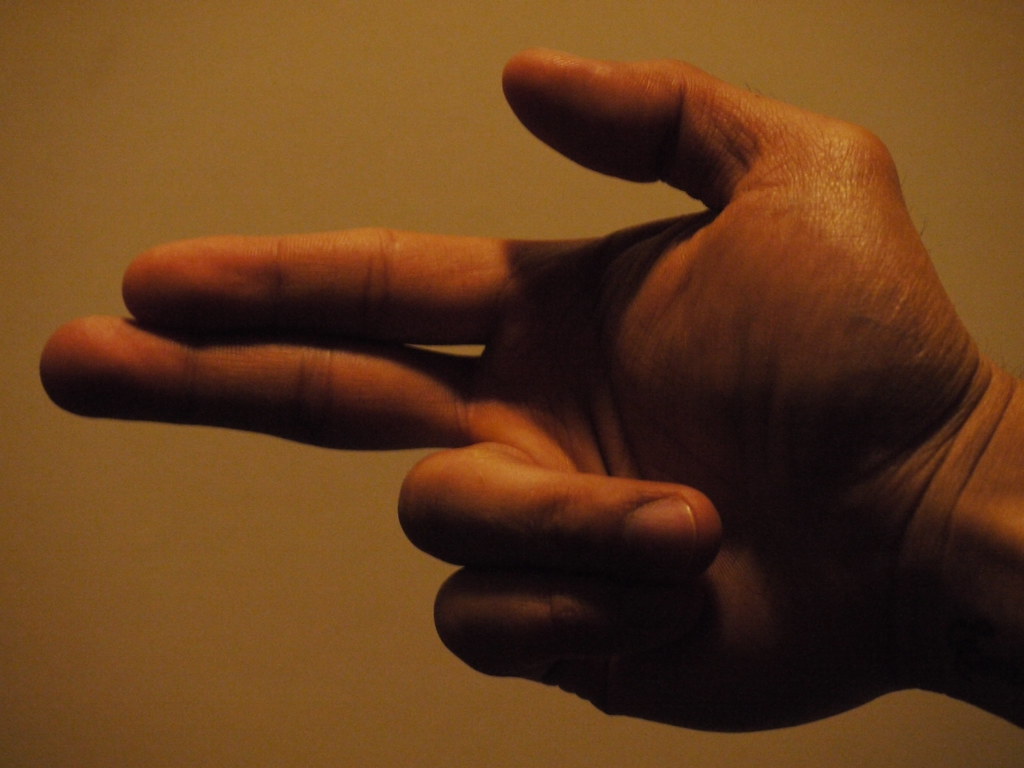 Gun ownership rose over the last year, from 32 percent of Americans owning guns to 39 percent, the Washington Post just reported, drawing on University of Chicago survey data. New gun owners represented 40 percent of gun sales.
An article in the journal Nature illuminates the stark reality of gun ownership. While people in general own guns because they are afraid, historically the people most likely to own a gun are those least likely to have reason to be afraid: white men in rural areas with incomes above $100,000 per year. It is worth considering who they are afraid of. Gun ownership correlates with racism; as one study cited in Nature put it, "for each 1 point increase in symbolic racism, there was a 50% greater odds of having a gun in the home and a 28% increase in the odds of supporting permits to carry concealed handguns." However, owning a gun does not seem to reduce the fear, which is why gun owners buy multiples.
The Post article, however, suggests that new gun owners are increasingly likely to be women and people of color, who feel unsafe on many levels–they no longer trust the police to protect them and they feel endangered by others of all kinds, from police to protesters to right-wingers to irrational people on the street.
A suicide or homicide (against a family member, not a stranger) is three times as likely in homes with guns, according to a study by Johns Hopkins. Guns are the second leading cause of death of children aged 1-17, second only to automobile accidents, the journal Pediatrics reports. In 2019, 211 people died in mass shootings in the US, according to the AP. All together, in the US, 14,400 people died from gun violence in 2019, the BBC reports. In Canada, where guns are much more carefully regulated, a total of 263 people in 2019 died from being shot.(Canada's population is about 11% of the US, but it has 1.8% of the number of gun deaths.) The Gun Violence Archive is a good source of information about the consequences of guns in the US; see our comprehensive database for a summary of pending gun legislation.
DOMESTIC NEWS
1. Gun legislation of all kinds stalled in committees
Thus far in the 117th Congress, no gun legislation has made it through both houses of Congress. One piece of legislation, H.R.8, the Bipartisan Background Checks Act, has made it through the House. There are, however, at least 38 pieces of gun legislation that have been sitting in committee since they were introduced. Please see our database of this legislation; it includes:
◉Gun Access (including limits on access for stalkers, domestic abusers, and those convicted of hate crimes): H.R.137, H.R.545, H.R.882, H.R.1441, H.R.1494, H.R.1923, H.R.3929, S.527.
◉Background Checks (including timelines and sales requiring background checks): H.R.135, H.R.1446, S.529, S.591
◉Tracing and Ghost Guns: H.R.1454, H.R.3088, S.1558.
◉Liability Insurance for Gun Owners: H.R.1004.
◉Records (including types of records to be maintained and time limits on records retention): H.R.2282, H.R.3536, S.974, S.1801.
◉Sales, Transfers, and Distribution (including gun show rules, private transfers of fire arms, and trafficking regulations): H.R.30, H.R.125, H.R.167, H.R.225, H.R.647, H.R.1006, H.R.1007, H.R.2280.
◉Storage (including Consumer Product Safety Commission guidelines on storage equipment and residential storage): H.R.130, H.R.478, H.R.3509, S.190, S.1825.
◉Research (including guns and public health and which federal offices can fund/conduct research): H.R.825, H.R.881, H.R.1576, S.281.
The vast majority of these pieces of legislation in committee are with the Judiciary Committees of both houses of Congress. Other Committees that have been assigned gun legislation include House Energy and Commerce, House Transportation and Infrastructure, House Space, Science, and Technology, Senate Commerce, Science, and Transportation, Senate Health, Education, Labor, and Pensions. S-HP
For your voice to be heard, urge committees with gun legislation to take action on this legislation and insist that your Congressmembers call for gun legislation to be moved beyond committee and that they support this legislation when it comes to a full vote of the House or Senate. Addresses are here.
Moms Demand Action recommends a variety of actions you can take against gun violence. Moms Rising also has a gun safety campaign, focusing on confirming David Chipman as the director of the Bureau of Alcohol, Tobacco and Firearms, establishing universal background checks, banning military-type assault records, and various other points.
2. Union organizers blocked from farms by the Supreme Court
Union organizers will no longer be able to go onto growers' property to meet with farmworkers, according to a decision from the U.S. Supreme Court, which cited property rights in its 6-3 decision. Since 1975, the Agricultural Labor Relations Act has permitted organizers to go on farmland during lunch hours and at breaks, a right fought for and won by Cesar Chavez and other leaders of the United Farm Workers, according to Cal Matters; it is difficult otherwise for them to speak with workers, who often live in housing provided by the employer and travel to work in the employer's buses, the Monterey Herald pointed out. Growers argued that allowing organizers on their property amounted to "government taking of private property without compensation," according to the New York Times. Justices said that in the age of smart phones, these provisions were no longer necessary, but the United Farm Workers, the union that represents farm workers, noted that some farmworkers lack phones. What's more, these days many farmworkers are Indigenous and do not speak either Spanish or English, so organizers who speak Indigenous languages need to be there in person. Writing in the Nation, journalist David Bacon explains the stakes of this decision–that it deprives workers of access to the people who represent them. RLS
With this doorway closed to assist farmworkers, you could consider writing your Senators and urging them to get the Farm Work Modernization Act, H.R. 1603, off the ground; it has passed the House. The bill would provide a pathway to citizenship for farmworkers. You could also ask your Senators and your Representative to support legislation which would provide a national heat stress standard monitored by OSHA; it would protect farmworkers from extreme heat by requiring growers to provide breaks in shade, water, and emergency procedures.
3. Children in detention are still dealing with deplorable conditions
In order to keep children from being held by Customs and Border Protection (CBP) for long periods, the Biden administration opened emergency intake and influx sites which were supposed to keep children safe while they were reunited with family or friends in the U.S. However, conditions in these places quickly deteriorated; Ft. Bliss, which holds some 5,000 children, is particularly notorious, according to the El Paso Times. The contractor running the facility has no experience with youth care, and inside sources told the newspaper that there were "soccer field-sized tents where up to 1,000 children were sleeping in bunks lined up 62 rows deep, eight rows across, three feet apart." Whistleblowers said that medical care was inadequate, few activities were provided for children and that the children were frantic about their situation. Many staff members spoke neither Spanish nor Indigenous languages so could not respond to the children's needs, the whistleblowers–staff members who had worked in the facility–said. Children later released said that the food was spoiled, water was scarce, and that some children wanted to harm themselves because of the anxiety and stress, according to Reuters.There are 15 sites like Ft. Bliss, Democracy Now reports. RLS
SCIENCE, HEALTH, TECHNOLOGY & THE ENVIRONMENT
4. Deaths from heat and fires
In terms of the climate crisis, we seem suddenly to be living in the world we predicted and feared. On June 30, most of the homes and the entire downtown of Lytton, British Columbia, were burnt to the ground in a wildfire. Residents had only minutes to flee their homes, according to the CBC. 300 fires are now burning in the province. The temperature in Lytton just before the fire was over 49 degrees Celsius (120 Fahrenheit). In the U.S., the west and northwest have been besieged by extreme heat and fires; Death Valley reached 130 degrees over the weekend, a milestone which was bizarrely celebrated by "heat tourists," according to the Washington Post.
In the Northwest, the huge Bootleg fire in Southern Oregon was burning nearly 144,000 acres as of July 11, the Salem Statesman reported. Drought and high temperatures are making it difficult to contain the fire. The Statesman quoted fire incident commander Al Lawson as saying that "The fire behavior we are seeing on the Bootleg Fire is among the most extreme you can find and firefighters are seeing conditions they have never seen before."
The Bootleg fire is threatening California's electrical grid as it moves closer to power lines, KQED reported. In California itself, the Beckwourth Complex  fire, north of Lake Tahoe, has burned some 86 square miles as of July 10,  according to the Press Democrat. Mercifully, the Lava fire, which has burned some 27,000 acres near Mt. Shasta, is 70% contained, but four other fires are burning in Siskiyou County.
Hundreds of people in the Pacific Northwest have died from the heat, particularly those who work outside and older people who live alone without air conditioning, according to the New York Times. And KQED noted that heat-related deaths could equal those of infectious diseases, reminding us of the 70,000 people who died in the European heat wave of 2003 and noting that the European Environmental Agency says that episodes of extreme heat in Europe are increasing. Researchers from HealthDay say that the climate crisis has already led to five million extra deaths annually, worldwide.
In a new report, climate researchers said that the heat wave in the Pacific Northwest "was virtually impossible without human-caused climate change," according to a study cited by Axios. Some of the people affected by the extreme weather are already climate refugees, having fled flooding in the Marshall Islands, CNN reports. One such refugee told reporters that "the most vulnerable to climate change will always be the most vulnerable, no matter if they can migrate or not," he said. "When a storm flattens your island and you have to take a job farming in Oregon, you are not any less vulnerable, since climate change is inescapable." RLS
RESOURCES
Mom's Rising has a summer postcarding campaign that may interest you, along with a five simple, clear actions you can take each week.
Data on refugees in the US: Pew Research Center. Refugee statistics worldwide: UNHCR.
No More Deaths/No Más Muertes' three-part report, Left to Die, details how asylum-seekers in the desert are abandoned by the Border Patrol. Though 911 calls are routed to them, they did not respond in 63% of cases. Lee Sandusky's piece of literary journalism, "Scenes from an Emergency Clinic in the Sonoran Desert," eloquently describes the work No More Deaths/No Más Muertes does.
The National Lawyers Guild has a series of webinars on issues from the global repression of voting, the local suppression of voting and the detention of immigrants.
A trans hotline with both Canadian and US numbers–and with operators who speak Spanish–provides services by and for trans people. You don't need to be in crisis to call, and if you are a friend or a family member of a trans person, you can also call to find out how to support them. If you would like to know more about the organization, see their staff bios here.
Moms Rising has actions you can take to celebrate Juneteenth–specific ways to work against inequality.
The Americans of Conscience checklist has new actions every other week that will enable you to make your voice heard quickly and clearly. In addition, they have a good news section that will help you keep going.
Among the organizations that supports kids and their families at the border is RAICES, which provides legal support. The need for their services has never been greater. You can support them here.
Al Otro Lado provides legal and humanitarian services to people in both the US and Tijuana. You can find out more about their work here.
The Minority Humanitarian Foundation supports asylum-seekers who have been released by ICE with no means of transportation or ways to contact sponsors. You can donate frequent-flyer miles to make their efforts possible.
The group Angry Tias and Abuelas provides legal advice and services to asylum-seekers at the border. You can follow their work on Facebook and see the list of volunteer opportunities they have posted.